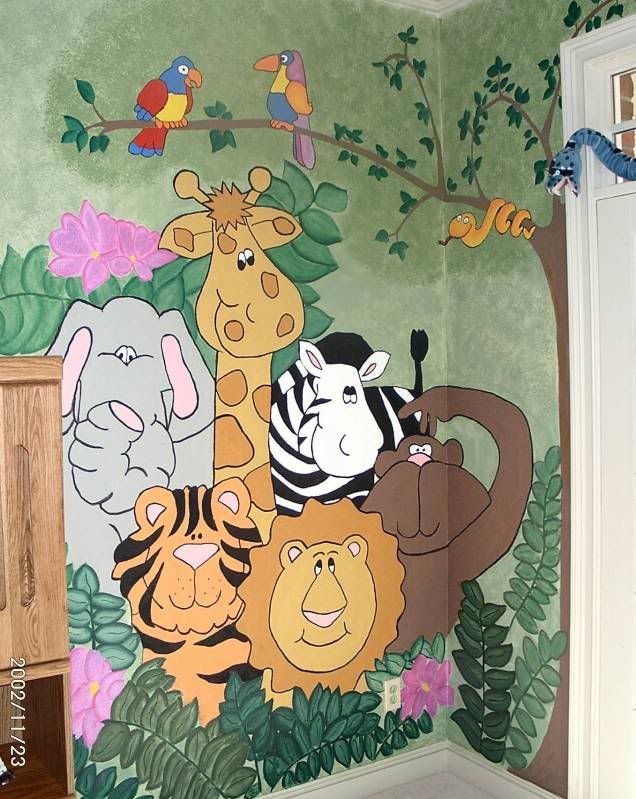 It's with sadness that I must say goodbye to Nathan's jungle room and Joseph's space room. My almost 14 year old boys have outgrown their cute little rooms, designed by mom.

I have really been putting this off... the thought of painting over my masterpieces is just too much! Or maybe it's the thought of painting over their youth... maybe I'm thinking they won't grow up if I ignore their rooms! Maybe I'm not ready for these teen years to be here!!! Maybe I just need to paint the rooms and shut-up!
But before I do, I present to you, in living color, their little boy rooms. Ta da!!!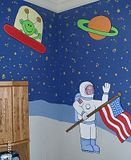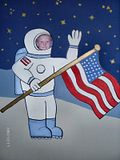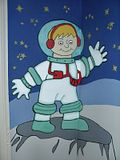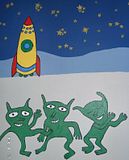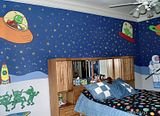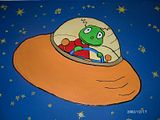 Now for the secret.... I'm not an artist. But I can be crafty. You too, can have rooms like these if you cheat a little. Just find some clip art, a projector, and of course paint, and you're good to go.
The main jungle room graphics were on a giftbag from our local zoo! I just projected it on the wall and traced. The other clipart came mostly from the web, I think. I freehanded the trees and leaves, and sponged the background.
For the space room, I started by drawing the landscape. Again, I just used various clip art and projected it on the wall. I painted the sky dark blue, and used various star shaped sponges to paint the stars. I used glow-in-the-dark paint for the stars, and for the alien's eyes!
Notice that one of the astronauts has a rather human-looking face. That's because I printed my son's face on thin tracing paper (using a regular printer). Then I cut it out and decoupaged it to the wall. I'm gonna miss that little face!
So please join me in saying farewell to the little boy rooms, and hello to new teen rooms! I've sure many of you have gone through this as well. I think the aliens on the wall must have became real, stold my babies, and replaced them with teenagers!