Have you noticed that I seem to be taking a lot of trips down memory lane lately? I've been going through my computer and finding all these projects that I made for my boys when they were smaller. I think I'm getting sentimental about them becoming teenagers, so I'm reliving the past through craft projects! I need therapy.

But in the mean time, what do you do with a cracker box?? Make a firetruck out of it, of course!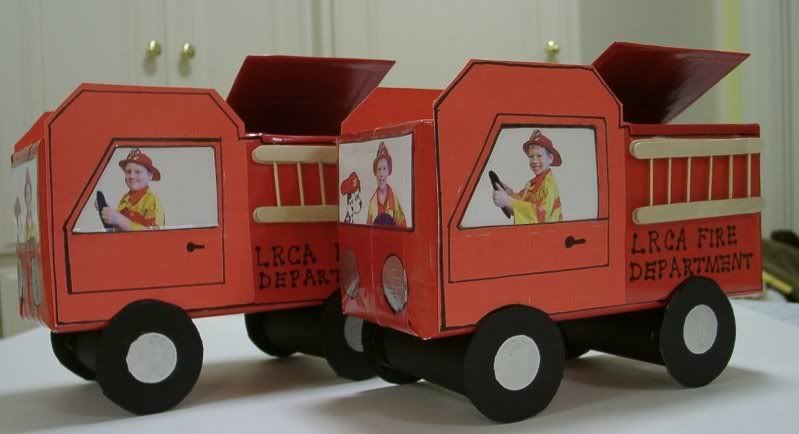 The boxes, er, I mean firetrucks, don't actually roll. That would be a nice addition if you can figure out how to do it.

These were actually made as valentine boxes (the top opens to hold the valentines). But you don't have to wait 'till Valentine's Day. Every little boy needs a firetruck, and they could hide their secret treasures in the box.

It's been a few years since I made these, so I don't have the exact instructions. But basically you cover a cracker box with red paper. I think I used red poster board for the side panels. The ladder was made from

popsicle

sticks and toothpicks. And I'm pretty sure that toilet paper rolls are under the truck, along with round wheels cut out of poster board.


The best part, of course, are the drivers! For the side window, I had them hold a frisbee like a steering wheel, and look to the side, then I snapped the picture. Of course, they were dressed up in their fireman outfits. Glue the picture to the window, as pictured. And for the front window, I had them look straight ahead while holding the frisbee, and I added a clip art dog!


Leave me a comment and let me know if you make one. I'd love to see a picture!